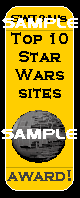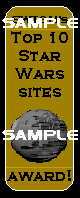 SWT&N's TOP TEN SITES AWARD
This is one of the most sought after awards ever! It only goes to 10 sites in the world!! Starting on Sunday - March 15th, I will be taking votes for phase II of SWT&N's Top 10 Sites Award. That means that everyone will get a second chance to win, and in two months they will get a third, but after a site has won three times, their Top 10 Award will be returned for a Hall of Fame Award. That gives other sites a chance. Once that is over, you will be able to apply for the Salacious Crumb Award. Details are below. Don't hesitate to vote!!! You may only vote once, and the voting will be open from March 15th - March 29th. Only two weeks!!! Please vote now for your favorite site!
---
This is the Salicious Crumb Award! Once the Top 10 Sites Award is over for another two months, the Salacious Crumb Award starts up again. Please e-mail me with a site's address, and then I will visit it to see if it is worthy. Your site could be one of the few!!! Mail me today!
---
Here are the winners of Phase I