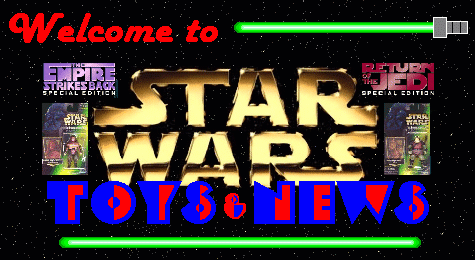 Welcome to The New and improved SWT&N!!! Much has changed, including a java update! Remember, SWT&N is always updateing, so bookmark this page and keep coming back! Please click on Admiral Ackbar to enter into the brand new address, the brand new look, and the brand new site!!!

SWT&N's Main Menu
WHAT's NEW? || STAR WARS NEWS || THE STAR WARS NEWSLETTER || STAR WARS GENESIS

JAWA's JUNK YARD || JABBA's HUT || TOP 10 || COMMENTS and FEEDBACK || SWT&N's TOP 10 SITES

WEEKLY VOTE || SWT&N's BANNERS || SWT&N's AWARDS! || SWT&N's TOUR || CREDIT || LINKS
HASBRO's ENTIRE STAR WARS UNIVERSE
DISCLAIMER!
THIS SITE IS NOT SPONSORED BY LUCASFILM LTD. OR KENNER! All the pics, information, or any or other things are copyright of SWT&N Productions and may not be used without permission. They are not to be stolen, copied, or used without permission of me, mikebig@juno.com, or the makers of the item. All pictures in SWT&N and all of the pages contained within are copyright Lucasfilm LTD., the Hasbro Toy Group (1997), or by the creator of the image. This page is designed to inspire, enlighten, and spread the word of Star Wars to all Star Wars collectors. Any and all questions should be directed to mikebig@juno.com or swtn@galaxycorp.com